WATER RIPPLE STAINLESS STEEL SHEET
WHAT IS WATER RIPPLE STAINLESS STEEL SHEET ?
Water ripple stainless steel plate is a metal plate with the characteristics of acid resistance, alkali resistance, high density, no bubbles, no pinholes, etc. Its surface has texture, which is similar to the ripples formed on the water surface. This finish, which can be created by a variety of rolling or stamping techniques from conventional forming, provides a visually appealing appearance for applications such as ceilings, building facades, countertops, backsplashes, furniture trim and other architectural elements.
Water ripples are divided into small ripples, medium ripples, and large ripples according to the size of the ripples.The thickness of corrugated sheets can be customized according to customer requirements, generally between 0.3-3.0 mm, the maximum thickness of small corrugations is 2.0 mm, and the maximum thickness of medium and large corrugations is 3.0 mm. In general, 0.3mm - 1.2mm is best for indoor applications such as ceilings and wall panels, while 1.5mm -3.0mm is best for indoor applications such as building exteriors.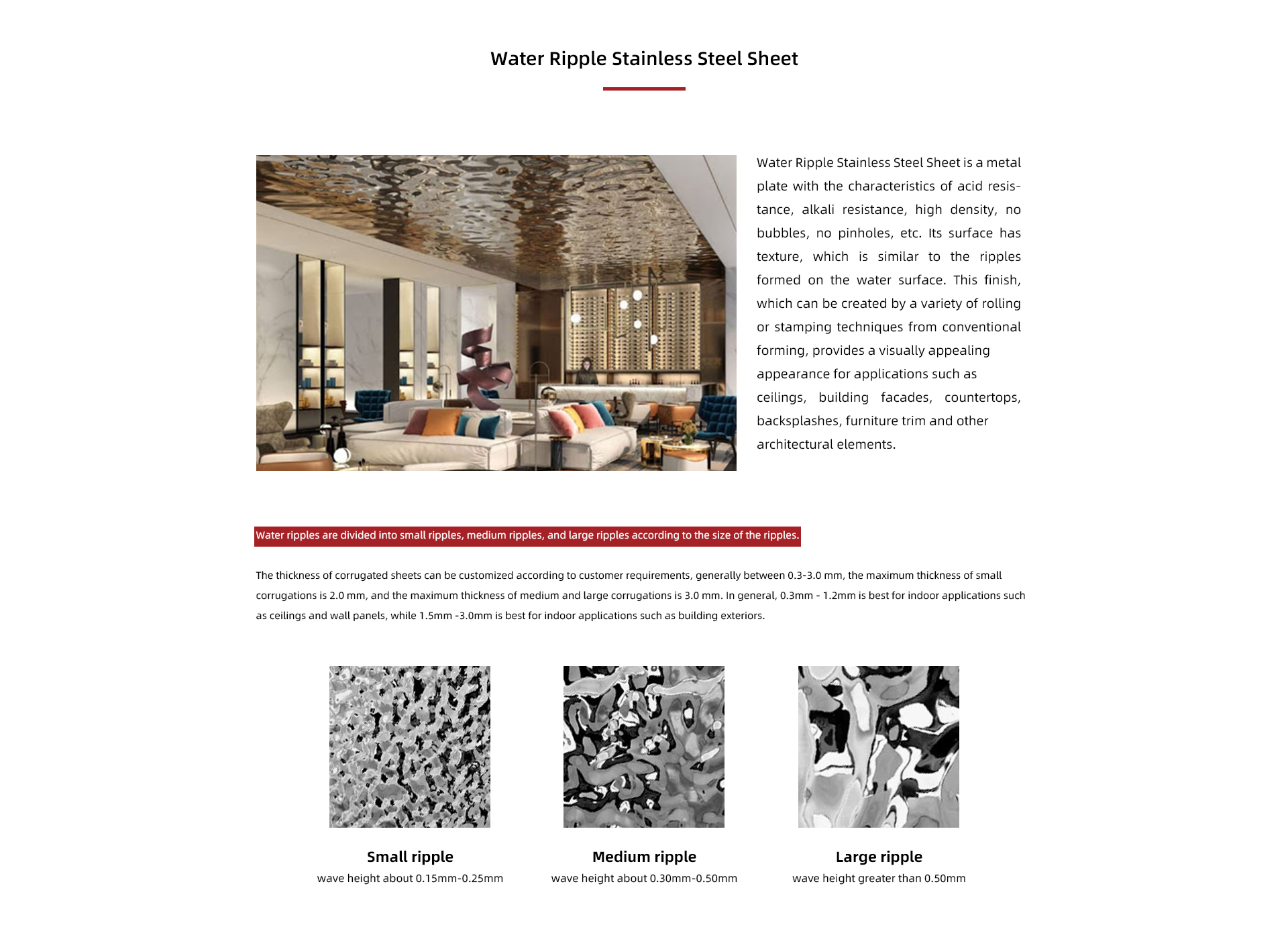 Surface

Stamp Finish

Grade

201

304

316

430

Form

Sheet only

Material

Stainless steel

Thickness

0.3-3.0 mm

Width

1000mm, 1220mm, 1250mm, 1500mm & customized

Length

2000mm, 2438mm, 3048mm & customized

Type

2B Stamp, BA/6K Stamp, HL/No.4 Stamp, etc.

Patterns

2WL, 5WL, 6WL, Ripple, Honeycomb, Pearl, etc.

Remarks

Feel free to contact us for more patterns.

Your own stamped stainless steel design is welcome.

Particular dimensions are accepted on request.

Customized specific cut-to-length, laser-cut, and bending are acceptable.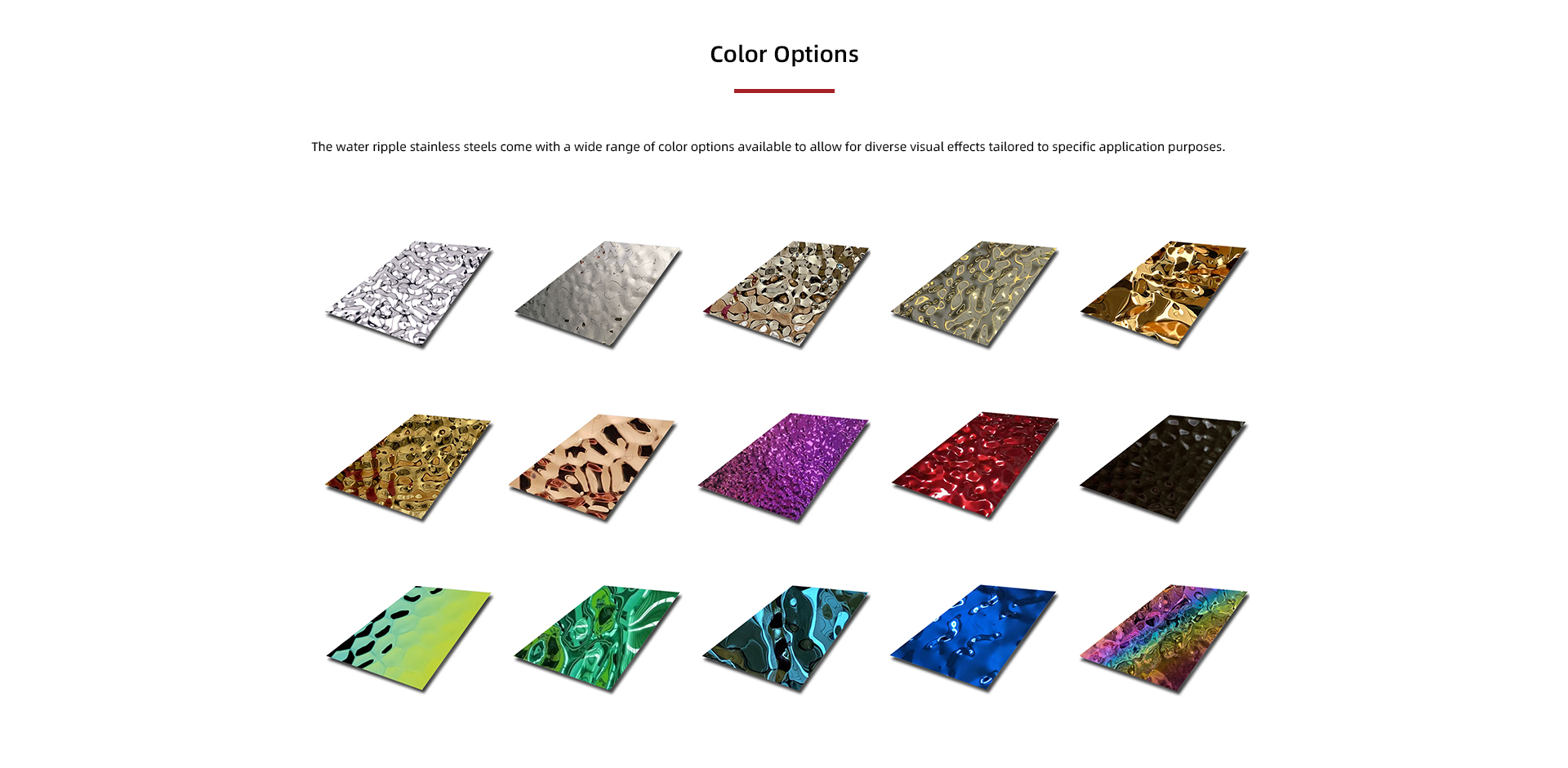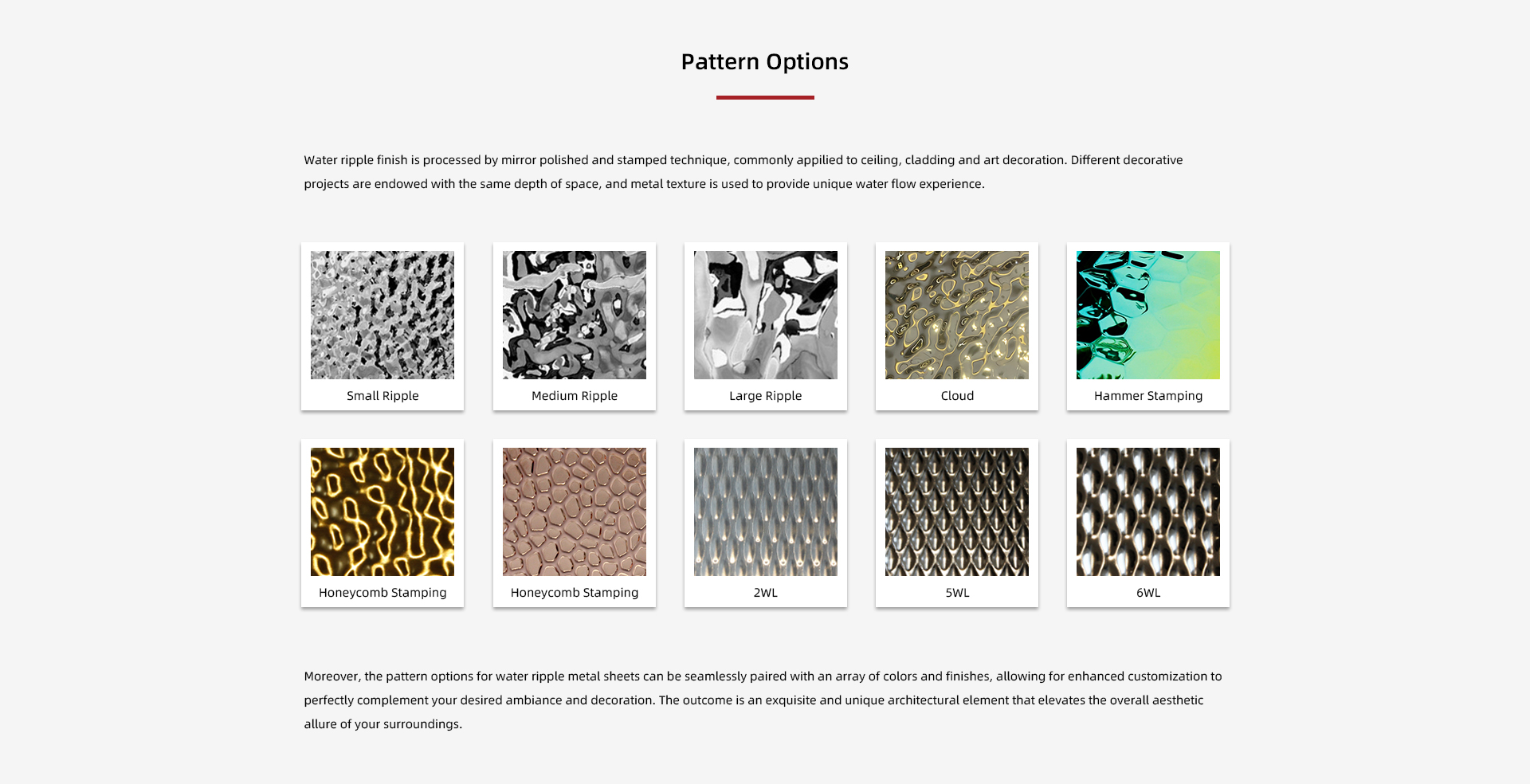 If you want to know more about the patterns of water ripple stainless steel sheet, please download our product catalogue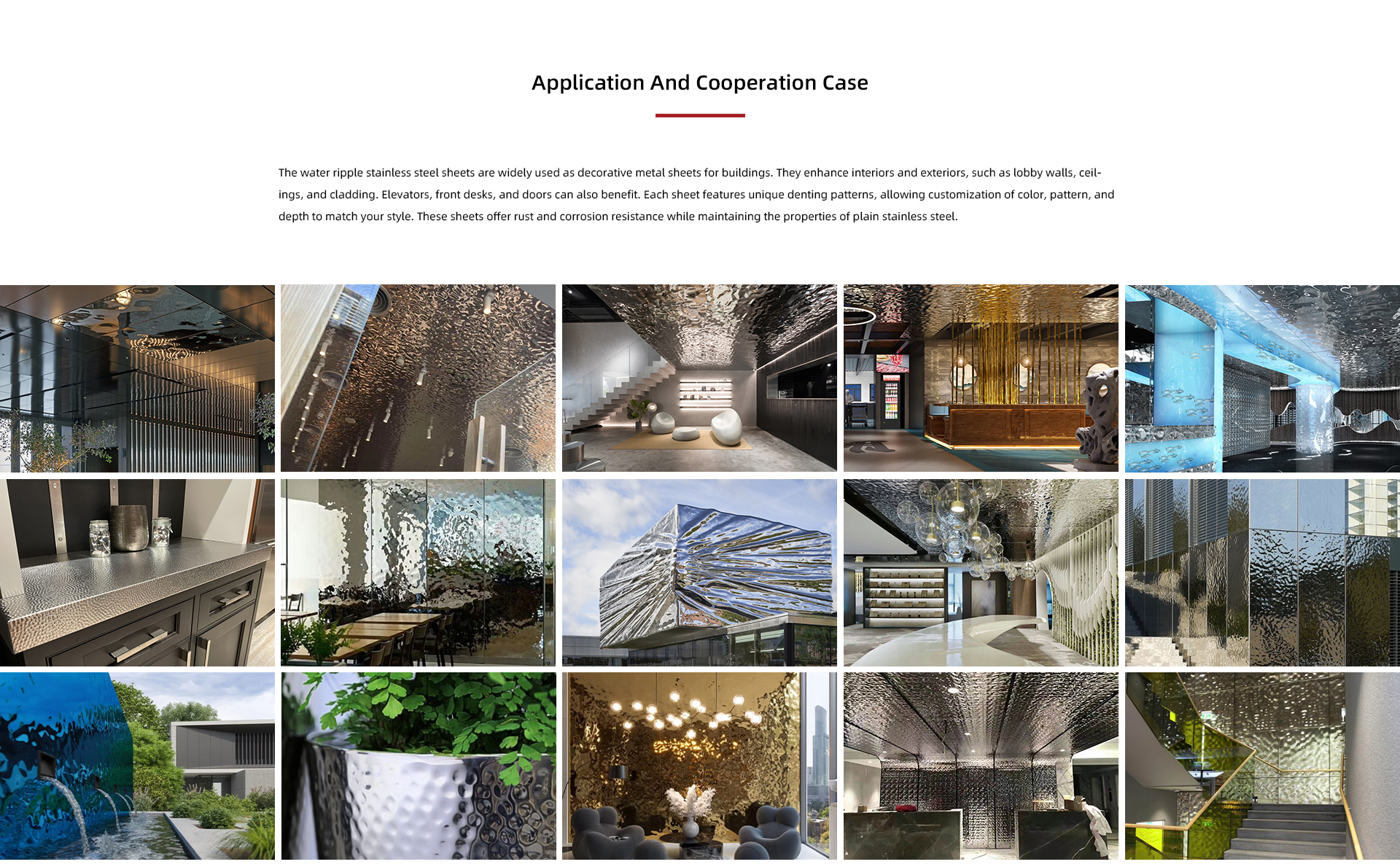 The water ripple stainless steel sheets are widely used as decorative metal sheets for buildings. They enhance interiors and exteriors, such as lobby walls, ceilings, and cladding. Elevators, front desks, and doors can also benefit. Each sheet features unique denting patterns, allowing customization of color, pattern, and depth to match your style. These sheets offer rust and corrosion resistance while maintaining the properties of plain stainless steel.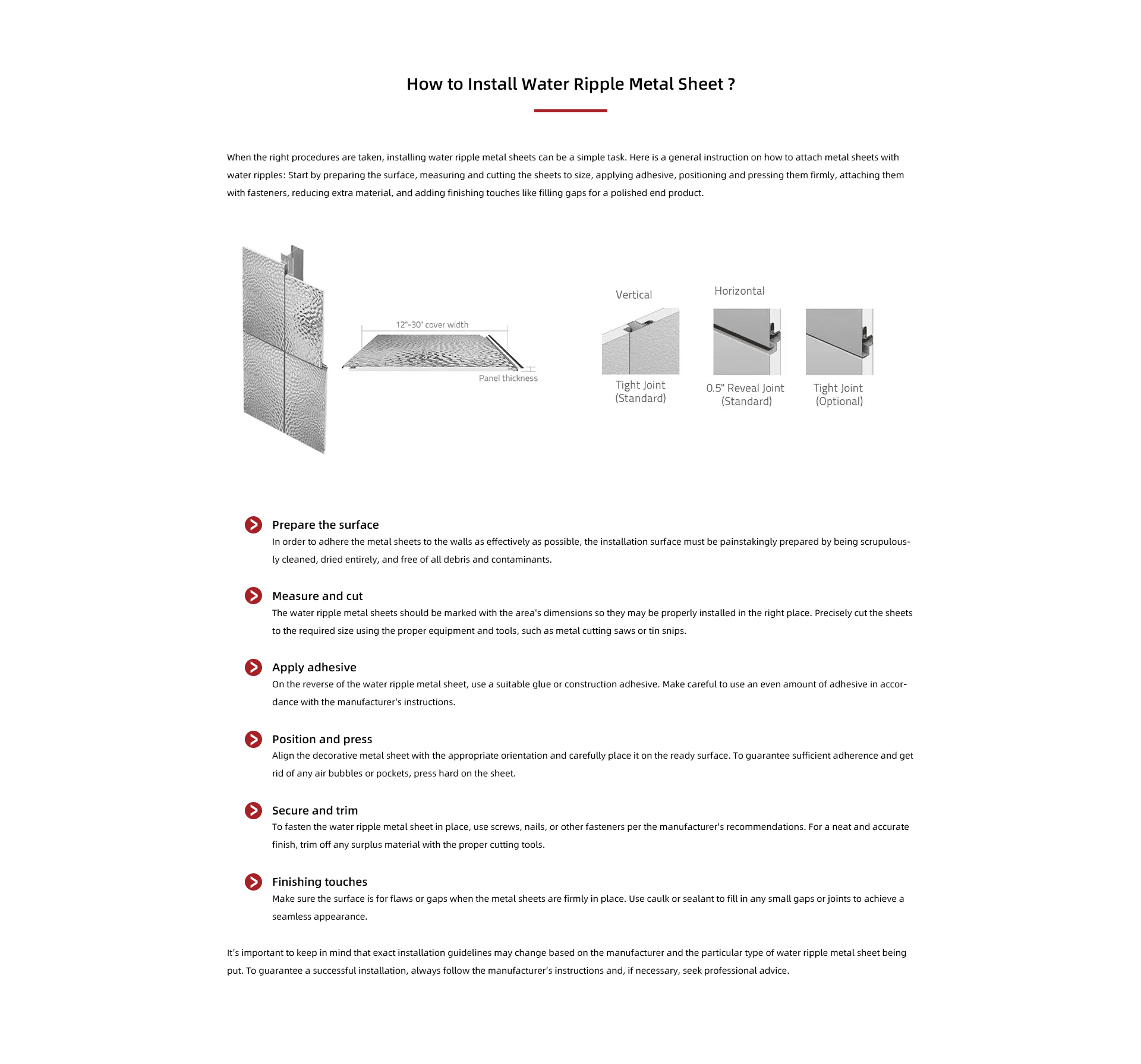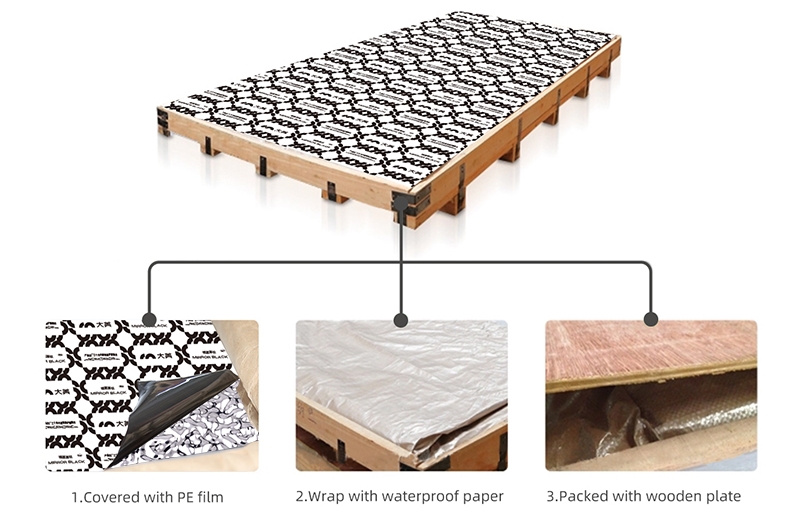 Protective Film

1. Double layer or single layer.

2. Black and white PE film/Laser (POLI) film.

Packing Details

1. Wrap with waterproof paper.

2. Cardboard encase all packs of the sheet.

3. The strap aligned with edge protection.

Packing Case

Strong wooden case, metal pallet and customized pallet are acceptable.
Please feel free to contact me for more information