In April 2018, Shandong Hongwang launched the ISO9001 and ISO14001 dual system certification. Relying on its own solid management foundation, experts dispatched by China Inspection Group to provide further guidance, the company is united and coordinated internally and externally. After nearly half a year of improvement, Shandong Hongwang successfully passed the China Quality Certification Center quality/environment dual system certification.
The establishment and operation of the ISO9001 and ISO14001 dual systems have made Shandong Hongwang's management work more standardized and standardized, with rigorous and orderly work processes, and clear job responsibilities. The acquisition of dual-system certification has further enhanced the company's image and brand reputation, and created more favorable conditions for the rapid development of Shandong Hongwang.
Shandong Hongwang will take this as an opportunity to attach great importance to continuous improvement and promotion, promote the high-quality development of the enterprise with a scientific and standardized operating mechanism and efficient and sound management system, and contribute to the continuous improvement of regional economic and social benefits. Actively contribute.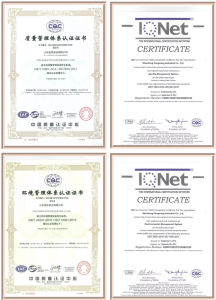 ---
Post time: Sep-27-2020