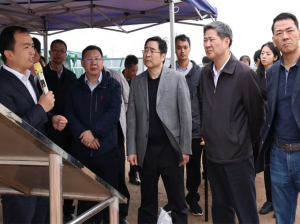 On March 15th, He Rong, Inspector of Guangdong Provincial Department of Industry and Information Technology, Chen Jian, Deputy Director of Provincial Department of Finance and other leaders visited Yangjiang Hongwang for investigation. Chen Jin, Deputy Secretary-General of Yangjiang Municipal Government, Lei Shuangfu, Director of Yangjiang Industry and Information Technology Bureau, Fu Guangyan, Director of Yangjiang High-tech Zone Management Committee, and other leaders accompanied the investigation. Liu Huidan, general manager of Yangjiang Hongwang, participated in the survey.
General Manager Liu Huidan introduced to the leaders of the investigation team the overall planning and construction progress of the Yangjiang Hongwang project, as well as the process technology characteristics, environmental protection and energy saving advantages of the first phase of the 700,000 tons of 1450MM four-stand continuous rolling and continuous pickling combined unit. , And expressed my heartfelt gratitude to government leaders at all levels for their care and support.
The leaders of the research team affirmed the construction progress of Yangjiang Hongwang and encouraged Yangjiang Hongwang to complete the project construction with higher standards and higher efficiency.
---
Post time: Sep-08-2020