On July 2nd, Yangjiang Municipal Party Secretary Jiao Lansheng, Executive Deputy Mayor Chen Ji, Deputy Mayor Huang Rui, Deputy Director of the Standing Committee of the Municipal People's Congress and Secretary of the Party Committee of the High-tech Zone, and other leaders visited Yangjiang Hongwang with an annual output of 700,000 tons of high-quality stainless steel Conduct surveys on the construction site of the cold-rolled sheet processing project. Gao Zhice, vice president of Hongwang Group, and Liu Huidan, general manager of Yangjiang Hongwang, accompanied the investigation.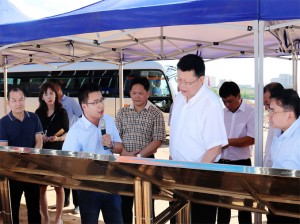 Mr. Gao gave a detailed report to Secretary Jiao on the construction progress of the first phase of Yangjiang Hongwang's 700,000 tons of high-quality stainless steel cold-rolled sheet processing project, the production line and product mix, production technology and management of the first phase and subsequent planned projects Outstanding features in the fields of informatization, intelligence, and centralized control, as well as the design effects of modern "garden-like" factories.
Secretary Jiao fully affirmed the construction progress of Yangjiang Hongwang, highly appreciated the innovation and fighting spirit of the Hongwang team, and encouraged Yangjiang Hongwang to continue to promote the project construction efficiently and with high quality. Before the end of the inspection, Secretary Jiao enthusiastically walked to the site of the workshop under intense construction to take photos in person.
Yangjiang Hongwang will continue to maintain Hongwang's spirit of daring to be the first and working hard for 30 days to complete the construction of the first phase of the project with high standards and high efficiency!
---
Post time: Aug-28-2020