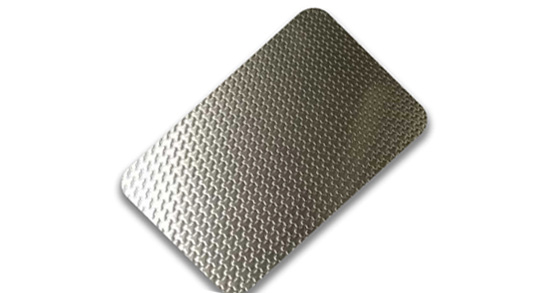 Stainless steel embossed plate is on the surface of the concave and convex pattern, used for the requirements of smoothness and ornamental.
Embossing rolling is rolled with a work roll with a pattern, the work roll is usually processed with erosion liquid, the concave and convex depth of the plate depending on the pattern, about 20-30 microns.The main material is 201, 304, 316 stainless steel plate, can open indefinite ruler, can also be a whole roll embossed.Main advantages: durable, durable, wear-resisting, strong decorative effect, beautiful vision, good quality, easy to clean, maintenance-free, resistant, anti-pressure, anti-scratch and no finger print.
Embossed stainless steel plate is through mechanical equipment on the stainless steel plate embossed processing, so that the plate surface concave and convex graphics.Main advantage: durable, durable, wear-resisting, adornment effect is strong.Width 600-1500mm, thickness 0.25mm ~ 3.0mm..Products are as follows: square grain/diamond grain/coarse jute grain/ice pattern/oval grain/ceramic tile grain/twill grain/big grain plate/small grain plate/bead grain plate/cube grain/woven bamboo grain/free grain/butterfly love flower/stone grain.Stainless steel decorative plate is suitable for decoration of elevator car, all kinds of cabin, building decoration, metal curtain wall industry.
In addition to the field of decoration, our stainless steel decorative pattern is also widely used in innovative product design and technology, stainless steel decorative pattern plate series, have fast, smooth transmission function, guarantee with conveyor belt or conveying product adhesion, especially suitable for food machinery, pharmaceutical machinery, electronic weighing apparatus, freezers, cold storage, building roof, packaging and printing machinery, film developing, logistics equipment, transfer orbit/belt, urban rail transit vehicles and metro light rail vehicle automatic door and van body system, etc.Stainless steel embossing plate is the use of rolling plate embossing, after good press can be divided into plate, can be according to customer requirements length plate.
More macro prosperous stainless steel information please visit: http://www.hermessteel.net
---
Post time: Oct-07-2019