201 304 8K Gold Mirror Stainless Steel for Exterior Wall Paneling Decoration
Product Detail
About Hermes Steel
Product Tags
Product introduction:
Mirror stainless steel sheet products are high-quality, durable, and versatile products that are widely used in many industries.
Features:
1. High reflectivity: Mirror stainless steel sheets have a highly reflective surface finish that reflects light and images clearly and sharply.
2. Smooth surface: The surface of mirror stainless steel sheets is very smooth and even, with no visible scratches or blemishes. This smoothness also helps to reduce friction and resist corrosion.
3. Durability: Mirror stainless steel sheets are highly resistant to corrosion, oxidation, and wear and tear, making them durable and long-lasting.
4. Cleanliness: The smooth, non-porous surface of mirror stainless steel sheets makes them easy to clean and maintain, making them ideal for use in sterile environments.
5. Aesthetics: Mirror stainless steel sheets have a sleek, modern appearance that is aesthetically pleasing and can enhance the visual appeal of any space.
6. Versatility: Mirror stainless steel sheets can be cut, shaped, and formed into various shapes and sizes, making them suitable for a wide range of applications, from decorative wall panels to automotive parts.
Application:
Mirror stainless steel sheets have a wide range of applications in various industries due to their unique features and properties. Here are some of the common applications of mirror stainless steel sheets:
Architecture and Construction: Mirror stainless steel sheets are used in architecture and construction for interior and exterior design elements such as wall panels, cladding, elevator doors, and column covers.
Automotive and Aerospace: Mirror stainless steel sheets are used in the automotive and aerospace industries for various applications, including trim and decorative accents, exhaust systems, and engine components.
Food and Beverage: Mirror stainless steel sheets are used in the food and beverage industry for equipment such as countertops, sinks, and food processing equipment due to their easy maintenance, corrosion resistance, and hygienic properties.
Medical and Pharmaceutical: Mirror stainless steel sheets are used in the medical and pharmaceutical industries for applications such as clean rooms, medical instruments, and laboratory equipment due to their easy maintenance, corrosion resistance, and hygienic properties.
Art and Decor: Mirror stainless steel sheets are used for artistic and decorative purposes such as sculptures, art installations, and furniture due to their reflective and aesthetically pleasing surface finish.
Electronics and Technology: Mirror stainless steel sheets are used in the electronics and technology industry for applications such as computer and mobile device casings, as well as for decorative purposes in home electronics.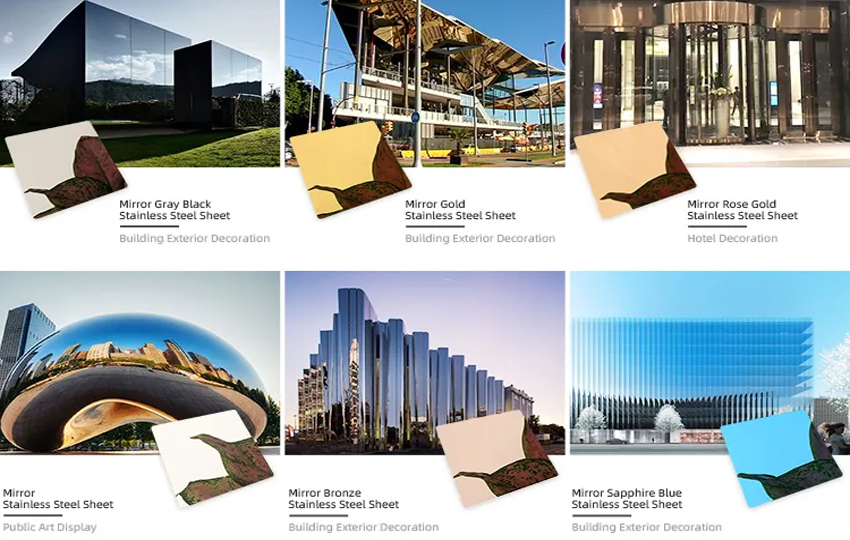 Parameters:
| | |
| --- | --- |
| Type | Mirror stainless steel sheets |
| Thickness | 0.3 mm - 3.0 mm |
| Size | 1000*2000mm, 1219*2438mm, 1219*3048mm, customized Max. width 1500mm |
| SS Grade | 304,316, 201,430, etc. |
| Finish | Mirror |
| Available finishes | No.4, Hairline, Mirror, Etching, PVD Color, Embossed, Vibration, Sandblast, Combination, lamination, etc. |
| Origin | POSCO,JISCO,TISCO,LISCO,BAOSTEEL etc. |
| Packing way | PVC+ waterproof paper + strong sea-worthy wooden package |
Samples:

FAQ:
Q1.About us, the relation between factory,  manufacturer or trader?
A1. Hermes Metal is a professional production of cold rolled stainless steel conglomerate, with professional production of stainless steel experience in our factory for nearly 12 years, which has more than 1,000 professional and technical workers. we are the foreign trade department of Hermes Metal. All our goods are dispatched directly from Hermes metal mill.
Q2.What are Hermes's main products?
A2.Hermes's main products include 201/304 stainless steel coil and sheets, all different styles of etched and embossed, surface finishes will be customized.
Q3.How can you ensure the quality of your product?
A3.All products have to go through three checks in the whole manufacturing process, which includes production, cutting sheets, and packing.
Q4.What are your delivery time and supply ability?
A4.The delivery time is normally within 15~20 working days, we can supply about 15,000 tons every month.
Q5.What kind of equipment is in your factory?
A5.Our factory has advanced five-eighth roller rolling, cold rolling production equipment on the roll, and advanced processing and testing equipment, which makes our product better quality with efficiency. 
Q6.About the complaint, quality problem, etc after-sales service, how do you handle it?
A6.We will have certain colleagues follow our order accordingly for each order with professional after-sales service. If any claim happens, we will take responsibility and compensation as per the contract. To better serve our clients, we'll keep tracking feedback on our products from clients and that's what makes us different from other suppliers. We're a customer care enterprise.
Q7.As the first customer, how do we trust you?
A7.On the top of the page, you can see a line of credit with $228,000. It provides our company with a higher degree of credibility in Alibaba. We can guarantee the safety of your order.
---
Next:
Great value 201 304 316 ba 2b 8k surface plain mirror gold etched stainless steel sheet elevator flooring
---
Foshan Hermes Steel Co., Limited, establishes a large stainless steel comprehensive service platform integrating international trading, processing, storage and after-sales service. 
Our company is located in Foshan Liyuan Metal Trading Center, which is a large stainless steel distribution and trading area in southern China, with convenient transportation and mature industrial supporting facilities. A lot of merchants gathered around the market center. Combining the advantages of market location with strong technologies and scales of major steel mills, Hermes Steel takes full advantages in the field of distribution and quickly shares market information. After more than 10 years of unremitting operation, Hermes Steel establishes professional teams of international trading, large warehousing, processing and after-sales service, providing professional stainless steel import and export trading services to our international customers with fast response, stable supreme quality, strong after-sales support and excellent reputation.
Hermes Steel has a wide range of products and services, covering stainless steel coils, stainless steel sheets, stainless steel pipes, stainless steel bars, stainless steel wires and customized stainless steel products, with steel grades 200 series, 300 series, 400 series; including surface finish like NO.1, 2E, 2B, 2BB, BA, NO.4, 6K, 8K. In addition to meet the individual needs of our customers, we also provide customized 2BQ (stamping material), 2BK (8K processing special material) and other special material, with customized surface's processing including mirror, grinding, sandblasting, etching, embossing, stamping, lamination, 3D laser, antique, Anti-fingerprint, PVD vacuum coating and water plating. At the same time, we provide with flattening, slitting, film covering, packaging and full sets of import or export trading services.
 Foshan Hermes Steel Co., Limited. with years of experience in the field of stainless steel distribution, has been adhering to the aims of customer focus and service orientation, continuously building a professional sales and service team, providing professional solutions to satisfy customers' various demands through prompt response and ultimately obtaining customer satisfaction to reflect the value of our enterprise. Our mission is to be a stainless steel company providing one-stop service to promptly satisfy the customers' requirements.
In the process of providing customers with quality products and services for many years, we have gradually established our own corporate culture. Believing, sharing, altruism and persisstence are the pursuits of every staff from Hermes Steel.