rose red hairline stainless steel sheet 304 decoration stainless steel plates
Product Detail
About Hermes Steel
Product Tags
Specifications Of HL Stainless Steel Sheet
| | |
| --- | --- |
| Item Name | HL finish Stainless Steel Sheet |
| Others Name | hl ss, ss hairline finish, hairline polish stainless steel, hairline stainless steel, plat stainless hairline, stainless steel hairline finish |
| Surface Finish | HL/Hairline |
| Color | bronze hairline stainless steel, black stainless steel hairline finish, gold stainless steel hairline finish, and other colors. |
| Standard | ASTM, AISI, SUS, JIS, EN, DIN, GB, etc. |
| Mill/Brand | TISCO, Baosteel, POSCO, ZPSS, etc. |
| Thickness | 0.3/0.4/0.5/0.6/0.8/1.0/1.2/1.5/1.8/2.0/2.50 to 150 (mm) |
| Width | 1000/1219/1250/1500/1800(mm) |
| Length | 2000/2438/2500/3000/6000(mm) |
| Certificate | SGS, BV, ISO, etc. |
| Protective Film | PVC protective film, Laser film, etc. |
| Stock Size | All sizes in stock |
| Service | Cut to sizes and color as custom's request.Free samples for your reference. |
| Grades | 304 316L 201 202 430 410s 409 409L, etc. |
| Delivery Time | 7-30 days. |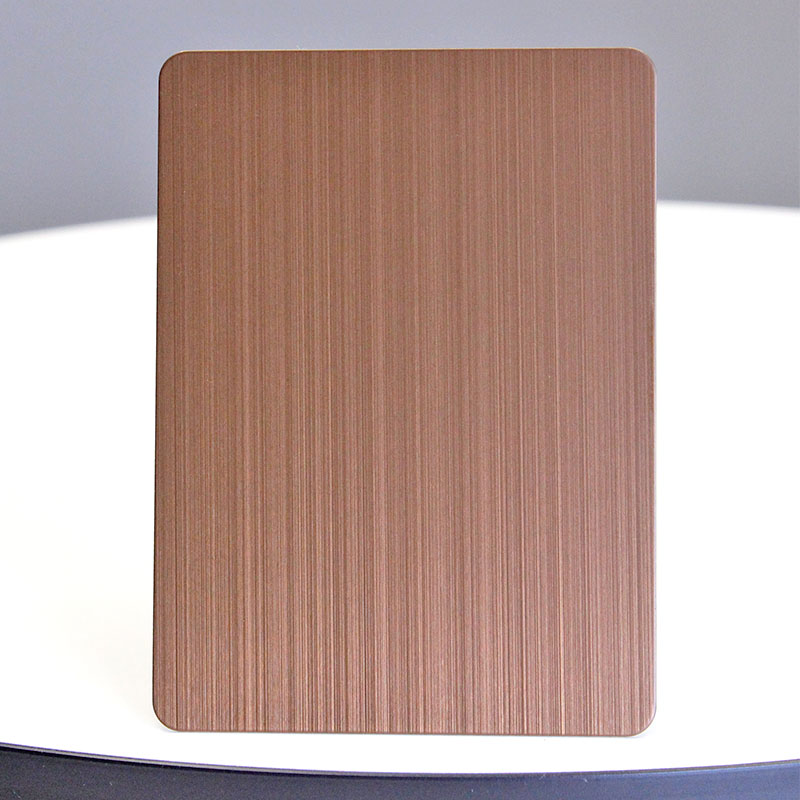 Applications For Brushed Metal Sheet With Hearline Texture
When using stainless steel for applications that easily get stained and dirty on the surface, particularly that of frequently being touched by people in public areas such as elevators, kitchens, restaurants, and so on, a brushed hairline finish would be the perfect type for these purposes. Unlike the mirror stainless steel sheet or other metals without finish, the dense hairline grains on the surface look beautiful and provide a milder tone, and its texture can hide scratches, fingerprints, and other blemishes. Hairline stainless steel sheet is also suitable for the purpose not required a highly reflective effect to brighten the space.

With some beneficial properties such as easy cleaning and low maintenance, it will not keep fingerprints and stains on the surface when touched, so brushed finish stainless steel sheets are more and more popular in applications of kitchen, restroom, and enclosure of refrigerators or washing machine. Additionally, architects and designers like to use stainless steel sheet products with hairline patterns as decorative materials to help achieve their desired effect and enhance their projects with stunning designs. And stainless steel comes with durability and resistance to corrosion and fire, these properties can be the protective factors to ensure users keep their facilities and buildings in tip-top condition after years of use.
What is Hairline Stainless Steel?
Hairline stainless steel is a type of metal having the surface directionally polished by a rotational bristle brush on a wheel or belt, the brush is driven to grind the surface in the same direction. Such a finishing process can create grains that look like straight hairlines on the surface. Afterward, use a tender non-woven abrasive pad or belt to soften the grains. A dull matte texture can be made by applying the #4 polishing technique. The brushing process can reduce the reflectivity on the surface, but the straight-line texture can present a luster effect that most people regard as a unique aesthetic element. Such an appealing effect is often popular for architecture and other applications.
In addition to stainless steel, the brushing finish also can be utilized for other metal types, such as aluminium or copper. Especially for some electronic products and small appliances, as aluminium enclosure finished with a hairline can prevent the surface from leaving fingerprints on it after being touched, and hide some dirt or scratches on the surface. Though hairline polished metal has many benefits, there is an adverse result, its ability to resist corrosion is reduced, as the brushed texture can easily attach dust and stain on the surface, which needs more cleaning to keep it clear to prevent.
Material Options For Brushed Finish Stainless Steel Sheet
304 Stainless Steel Sheet: Grade 304 is the most widely used type of stainless steel sheet metal that we usually find in various commercial applications, 304 stainless steel sheet has resistance to rust and corrosion, and it's a fire-proof and heat-resistance material as it comes with a high melting point, and the surface finished with mirror finish is easy to clean and requires low maintenance. 304 stainless steel with a polished surface is a versatile type of material be widely used for bathroom ceilings, walls, kitchen sinks, backsplashes, food equipment, and so on.
316L Stainless Steel Sheet: For further enhancing the ability to resist corrosion and oxidation, stainless steel of grade 316L is the most ideal one, and it's regarded as marine grade stainless steel. The letter "L" means LOW CONTENT of carbon, which is lower than 0.03%, which has the better properties of easy welding and resistance to rust and corrosion. 316 stainless steel sheet with BA, 2B finish is generally used for the facade, and other indoor and outdoor decorative applications, tools and facilities for food, and any application that highly require resistance.
Benefits Of Brushed Stainless Steel Sheet
For architectural applications, there are various different types of stainless steel sheets on the market, it would be better to consider some factors in order to choose a proper type for your specified need. In addition to the basic alloy steel types (304, 316, 201, 430, etc.), another main difference between them is how their surfaces are finished, there are many techniques that can be used for the surface finishes, one of the common types is brushed finish, which is also known as hairline finish. Now let's keep discovering some benefits that brushed stainless steel sheet comes in.
Luster Of Silk Texture
The surface of brushed stainless steel comes with the numerous hairline pattern that feels like texture of silk. Though the surface doesn't have less ability of reflecting, but the surface still provides a metallic luster, which leaves a matte and dull seen on it. Such an effect presents a sleek appearance with both stylish and classic touches, and the distinctive style is perfect for decorative purpose.
Easy Cleaning
Hairline stain less steel is easy to clean and maintain, as the matte surface can hide the fingerprints or sweat stains when people touch it. That can help save you much effort and time for cleaning, it's perfect option for kitchens, bathrooms, and anywhere cleaning is necessary.
High Strength
One of the major reasons brushed stainless steel is popular is its basic material is tough and durable, its high strength gives it a outstanding resistance to strong impact and wear. And compare with other materials, stainless steel doesn't need much material being used to form a strong structure, it can always keep its shape in good condition.
Durability
Stainless steel is a durable material, which can provide long useful life, and even thin stainless steel won't deform under great pressure at high and low temperatures, making it one of the best ideal materials for various applications.
Corrosion Resistance
Stainless steel with hairline textures is corrosion and rust resistance. The material can withstand rust, water, moisture, saline air, etc. The reason why stainless steel has a strong resistance as it's a alloying metal that consists of some elements like chromium, which can form a strong resistant layer when it's oxidized in the air, this layer allows the surface to resist rust and corrosion. In addition to chromium, such an alloy metal also include some other elements to enhance its properties, such as molybdenum, nickel, titanium, and more.
Recyclability
It's a sustainable option when choosing stainless steel, as it's a totally recyclable type of material. the scrap of stainless steel can be recycled for reuse once it has lost its original function, In fact, most stainless steel products are made from recycled scrapped material. Unlike some other materials, recycling scrapped stainless steel doesn't need any harmful chemical to process, and it's not necessary to add some elements that already existed in the material. So stainless steel is one of the regenerative resources that can avoid the scarcity of resources and protect the environments from being polluted.
Not sure what material to purchase for your application? Check out the benefits of brushed finish stainless steel mentioned above. For the good reason, not only does the material have the excellent property of strong strength, but also stainless steel is one of the most functional and versatile materials.
---
---
Foshan Hermes Steel Co., Limited, establishes a large stainless steel comprehensive service platform integrating international trading, processing, storage and after-sales service. 
Our company is located in Foshan Liyuan Metal Trading Center, which is a large stainless steel distribution and trading area in southern China, with convenient transportation and mature industrial supporting facilities. A lot of merchants gathered around the market center. Combining the advantages of market location with strong technologies and scales of major steel mills, Hermes Steel takes full advantages in the field of distribution and quickly shares market information. After more than 10 years of unremitting operation, Hermes Steel establishes professional teams of international trading, large warehousing, processing and after-sales service, providing professional stainless steel import and export trading services to our international customers with fast response, stable supreme quality, strong after-sales support and excellent reputation.
Hermes Steel has a wide range of products and services, covering stainless steel coils, stainless steel sheets, stainless steel pipes, stainless steel bars, stainless steel wires and customized stainless steel products, with steel grades 200 series, 300 series, 400 series; including surface finish like NO.1, 2E, 2B, 2BB, BA, NO.4, 6K, 8K. In addition to meet the individual needs of our customers, we also provide customized 2BQ (stamping material), 2BK (8K processing special material) and other special material, with customized surface's processing including mirror, grinding, sandblasting, etching, embossing, stamping, lamination, 3D laser, antique, Anti-fingerprint, PVD vacuum coating and water plating. At the same time, we provide with flattening, slitting, film covering, packaging and full sets of import or export trading services.
 Foshan Hermes Steel Co., Limited. with years of experience in the field of stainless steel distribution, has been adhering to the aims of customer focus and service orientation, continuously building a professional sales and service team, providing professional solutions to satisfy customers' various demands through prompt response and ultimately obtaining customer satisfaction to reflect the value of our enterprise. Our mission is to be a stainless steel company providing one-stop service to promptly satisfy the customers' requirements.
In the process of providing customers with quality products and services for many years, we have gradually established our own corporate culture. Believing, sharing, altruism and persisstence are the pursuits of every staff from Hermes Steel.