201 304 stainless steel ceramic interior decoration t shape tile trim tile edging strips
Short Description:
Product Name:
Decorative stainless steel tile trim
Material:
Stainless steel 201/304/316
Model:
T-Shape,U-Shape,L-Shape,Flat Bar,Corner Trim
Specification:
1.Length:2.44 / 2.5 / 2.7 / 3m
Both Customized
2.Thickness:0.24mm-2mm
3.Height:8 / 10 / 12 mm
4.Color:Silver/ Gold/ Black/ Champagne
5.Surface Finished:Mirror,Hairline,No.4,Satin,Virbation
Service:
1.Free sample;
2.OEM & ODM;
3.On line service;
4.New design solution
Package:
Wooden Pallet or Case
Delivery Time:
10-30 days
Application:
1. Decoration for For protecting & decorating the edges of ceramic tiles, backsplash, mirror, door, furniture, bathroom,  kitchen, living room, house, hotel,  wall, floor, shopping mall, KTV, hospital, office building , etc;
2. Protection for corner, tile edge, furniture border, door edge, stair edge, floor gap, glass holder profile, etc.
Remarks:
1.Different thickness , different surface processing make different price.
2.Pattern, size and color could be customized according to your requirements
Brand Name: Hongwang
Model Number: 201 304 316 430
Application: decoration and fabrication
Technique: cold rolled
Length: 2000/2438/2500/3000/3048 mm
Width: 1000/1219/1250/1500 mm
Certification: ISO
PVC: black-white film/laser film/poli film
Customized: available
Standard: JIS, AISI, ASTM, GB, DIN, EN
Product Detail
Product Description
Application Filed
Manufacturing Technique
Why Choose Us
Packing&Shipping
FAQ
Contact
Product Tags
Stainless steel wire
Mainly used for hotel decoration, meeting room decoration, KTV decoration, office decoration, home decoration, different customers can choose their own decoration style according to their needs.
Stainless steel lines in the bathroom and kitchen are also widely used. In these two spaces, stainless steel lines can be made into external corners. The external corners of the kitchen and bathroom are relatively easy to break, because the tiles have been separated by 45 degrees. , Can not withstand too much external force, the ceramic tile at the external corner is likely to be damaged after a long time of use. This problem can be solved by sticking the external corner of the ceramic tile with a stainless steel line.
Stainless steel lines are used more on the TV wall in the living room. For example, the most used ones are embedded in the ceiling, and one or two circles of stainless steel lines are made on the ceiling. The effect is also very good.
---
Next:
---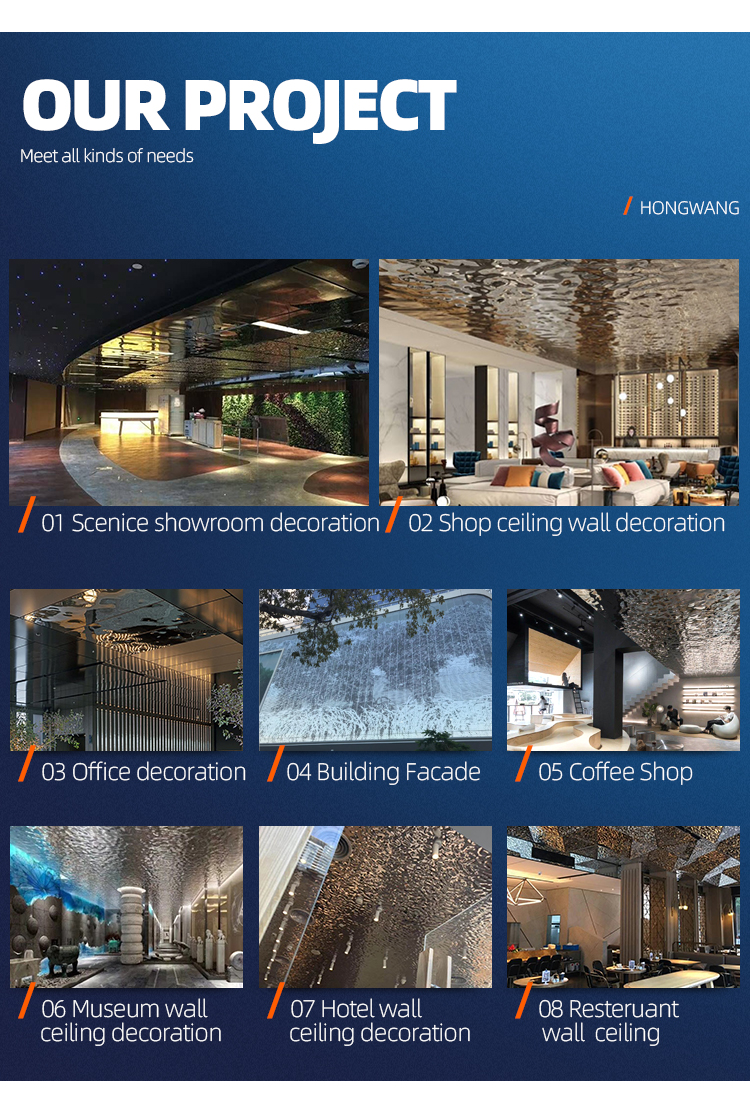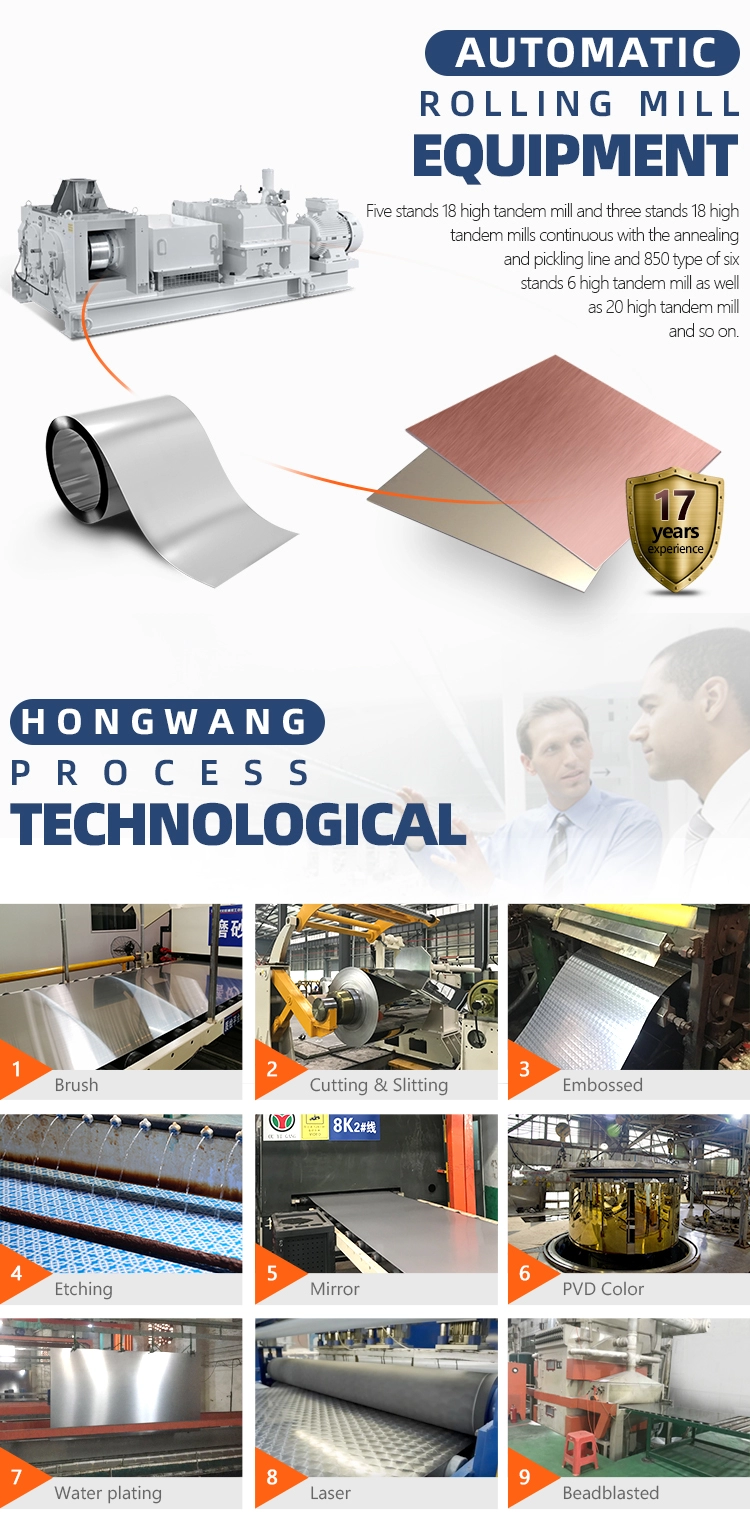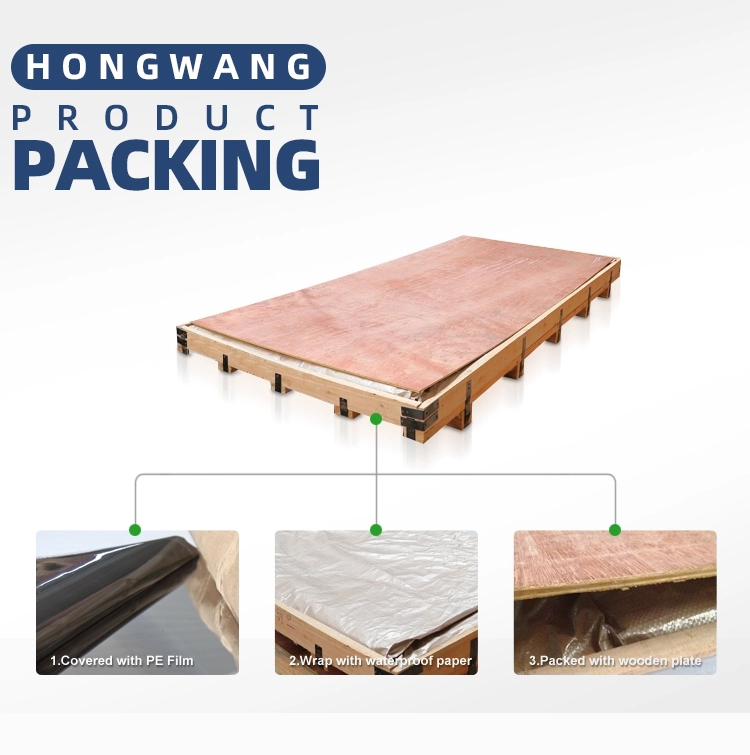 Q1.About us,the relation between factory,manufacture or trader?
A1. Hongwang group is a professional production of coldrolled stainless steel conglomerate , with professional production of stainless steel experience and our own factory nearly 12 years,where has more than 1,000 professional and technical workers. we are the foreign trade department of Hongwang. All our goods are dispatched directly from Hongwang mill.
Q2.What are Hongwang's main products?
A2.Hongwang's main products include 201/304 stainless steel coil and sheets,all different styles of etched and embossed,surface finished will be customized.
Q3.How can you ensure the quality of your product?
A3.All products have to go through three checks in the whole manufacturing process,it includes production,cutting sheets and the packing.
Q4.What is your delivery time and the supply ability?
A4.The delivery time normally within 15~20working days,we can supply about 15,000tons every month.
Q5.What kind of equipment in your factory?
A5.Our factory have advanced five-eighth roller rolling,cold rolling production equipment on the roll,advanced processing and testing equipment,which makes our product better quality with efficiency.
Q6.About the complaint,quality problem,etc aftersales service,how do you handle it?
A6.We will have certain colleague to follow our order accordingly for each order with professional after-sales service. If any claim happen, we will take our responsibility and compensate as per contract. For better serve our client, we'll keep tracing feedback of our products from clients and that's what make us different from other suppliers. We're customer care enterprise.
Q7.As the first customer,how do we trust you?
A7.On the top of page,you can see a line of credit with $228,000.
It provides our company with higher degrees of credibility in the alibaba.We can guarantee the safety of your order.