304 Stainless Steel PVD Gold Color Mirror Finish Decorative Sheet 1.0mm 4×8 for Hotel Luxury Decoration
Product Detail
About Hermes Steel
Product Tags
what is the pvd color coating stainless steel sheet?
PVD (Physical Vapor Deposition) color coating is a process used to apply a thin film of metal oxide onto stainless steel sheets. The PVD coating technique involves the deposition of a vaporized metal material onto the surface of the stainless steel through a vacuum chamber.
In the case of color coating stainless steel sheets, the metal oxide layer is typically composed of titanium nitride (TiN), zirconium nitride (ZrN), chromium nitride (CrN), or a combination of these materials. These metal oxides create a durable and decorative coating that enhances the appearance and performance of stainless steel.
The PVD color coating process allows for a wide range of colors and finishes to be achieved on stainless steel sheets. By varying the deposition parameters and composition of the metal oxides, it is possible to create colors such as gold, rose gold, black, bronze, blue, and many others. The resulting coating is typically resistant to abrasion, corrosion, and fading, making it suitable for various applications in architecture, interior design, automotive, and other industries.
Specifications
| | |
| --- | --- |
| ype | pvd coating stainless steel sheets |
| Thickness | 0.3 mm - 3.0 mm |
| Size | 1000*2000mm, 1219*2438mm, 1219*3048mm, customized Max.width 1500mm |
| SS Grade | 304,316, 201,430 etc. |
| Finish | PVD Color Coating |
| Available finishes | No.4, Hairline, Mirror, Etching, PVD Color, Embossed, Vibration, Sandblast, Combination, lamination etc. |
| Origin | POSCO,JISCO,TISCO,LISCO,BAOSTEEL etc. |
| Packing way | PVC+ waterproof paper + strong sea-worthy wooden package |
Grade

STS304

STS 316

STS430

STS201

Elong(10%)

Above 40

30MIN

Above 22

50-60

Hardness

≤200HV

≤200HV

Below 200

HRB100,HV 230

Cr(%)

18-20

16-18

16-18

16-18

Ni(%)

8-10

10-14

≤0.60%

0.5-1.5

C(%)

≤0.08

≤0.07

≤0.12%

≤0.15
Product Display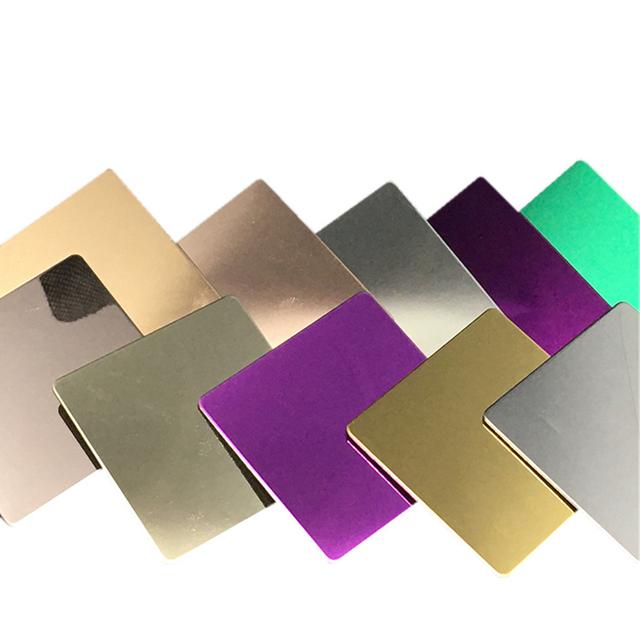 PVD color coating on stainless steel sheets offers several attractive selling points and features:
1. Aesthetic Appeal: PVD color coating provides a wide range of vibrant and decorative colors, allowing stainless steel sheets to be customized to match various design preferences and interior/exterior aesthetics. It adds a visually appealing and modern touch to architectural and decorative applications.
2. Durability: The PVD coating creates a hard, wear-resistant surface that enhances the durability of stainless steel sheets. It improves resistance to scratches, abrasion, and fading, ensuring a long-lasting and pristine appearance over time.
3. Corrosion Resistance: Stainless steel is already known for its corrosion resistance, and the PVD coating further enhances this property. The metal oxide layer acts as an additional barrier, protecting the underlying stainless steel from environmental factors such as moisture, humidity, and chemicals.
4. Easy Maintenance: PVD color-coated stainless steel sheets are relatively easy to clean and maintain. The smooth surface minimizes the accumulation of dirt, fingerprints, and smudges, requiring less effort and time for cleaning.
5. Versatility: PVD color-coated stainless steel sheets can be used in a wide range of applications, including architectural facades, interior design elements, signage, furniture, appliances, and automotive trim. The ability to achieve various colors and finishes makes it a versatile material for creative and functional designs.
6. Eco-Friendly: The PVD coating process is environmentally friendly compared to other surface coating methods. It is a low-temperature process that does not involve the use of harmful chemicals, making it a sustainable choice for coating stainless steel.
Overall, the PVD color coating on stainless steel sheets combines aesthetics, durability, corrosion resistance, and versatility, making it an appealing choice for architects, designers, and manufacturers looking for high-quality and visually striking materials.
CUSTOMIZABLE SURFACE
The production process of PVD color coating on stainless steel sheets involves the following steps:
1. Surface Preparation: The stainless steel sheets undergo thorough cleaning and surface preparation to ensure the removal of any dirt, grease, or contaminants. This step is crucial for achieving good adhesion between the PVD coating and the stainless steel surface.
2. Loading: The prepared stainless steel sheets are loaded into a vacuum chamber, which is a controlled environment for the PVD process.
3. Pumping Down: The chamber is evacuated to create a vacuum environment by removing air and other gases. This is important to ensure the purity of the deposition process and prevent contamination.
4. Preheating (Optional): In some cases, the stainless steel sheets may be preheated to a specific temperature. Preheating can enhance the adhesion of the PVD coating to the stainless steel surface.
5. Metal Deposition: The PVD process involves the deposition of metal atoms or ions onto the stainless steel sheets. This is typically achieved through one of the following methods:
a. Physical Vapor Deposition: A solid metal target, typically titanium, zirconium, or chromium, is bombarded with high-energy ions in a process known as sputtering. The metal atoms are then vaporized and deposited onto the stainless steel surface.
b. Cathodic Arc Deposition: A high voltage is applied to a metal cathode, causing a metal vapor to be generated through an electric arc. This vapor is then directed toward the stainless steel sheets.
6. Color Coating: During the metal deposition process, reactive gases such as nitrogen or a mixture of nitrogen and acetylene may be introduced into the chamber. These gases react with the metal atoms, forming metal nitrides or carbides, which create the desired color effect on the stainless steel sheets. The composition and ratio of gases can be adjusted to achieve specific colors and finishes.
7. Cooling and Venting: After the deposition and color coating, the stainless steel sheets are cooled to room temperature. The chamber is then vented to reintroduce air and restore atmospheric pressure.
8. Inspection and Quality Control: The coated stainless steel sheets undergo visual inspection and quality control measures to ensure uniformity, adhesion, color accuracy, and overall product quality.
9. Further Processing: The coated stainless steel sheets can undergo additional processes such as cutting, shaping, forming, and surface treatments as required for specific applications.
The exact details of the production process may vary depending on the equipment used and the manufacturer's specific requirements.
Application of PVD color coating stainless steel sheets 
FAQ:
Q1:What are HERMES's products?
A1:HERMES's main products include 200/300/400series stainless steel coils/ sheets/tiling trims/strips/circles with all different styles of etched, embossed, mirror polishing, brushed, and PVD color coating, etc.
Q2:How can you ensure the quality of your product?
A2:All products have to go through three checks in the whole manufacturing process, which include production, cutting, and packing.
Q3:What is your delivery time and supply ability?
The delivery time is normally within 15~20 working days and we can supply about 15,000 tons every month. 
Q4:About the complaint, quality problem, after-sales service, etc, how do you handle it?
A4:We will have certain colleagues follow our orders accordingly. Each order is equipped with professional after-sales service. If any claim happened, we will take responsibility and compensate you as per the contract. To better serve our clients, we'll keep track of feedback on our products from clients and that's what makes us different from other suppliers. We're a customer care enterprise.
Q5:What is the MOQ?
A5:We don't have MOQ. We treat every order with heart. If you are scheduling to place a trial order, pls feel free to contact us and we can meet your requirements.
Q6:Can you provide OEM or ODM service?
A6:Yes, we have a strong developing team. The products can be made according to your request. 
Q7:How to clean and maintain its surface?
A7:Use neutral cleanser and soft cotton cloth. Do not use acid cleanser and rough material.
REQUEST A QUOTATION
If you are interested in our products and would like to know more details, please leave a message here, and we will reply to you as soon as we can.
---
Previous:
304 316 Stainless Steel Rose Gold Color Embossed Pattern Finish Metal Sheet for Backsplash Decoration
Next:
One top Building Materials 304 Laminated Finish Wooden Pattern Stainless Steel Metal Sheet for Door Decoration
---
Foshan Hermes Steel Co., Limited, establishes a large stainless steel comprehensive service platform integrating international trading, processing, storage and after-sales service. 
Our company is located in Foshan Liyuan Metal Trading Center, which is a large stainless steel distribution and trading area in southern China, with convenient transportation and mature industrial supporting facilities. A lot of merchants gathered around the market center. Combining the advantages of market location with strong technologies and scales of major steel mills, Hermes Steel takes full advantages in the field of distribution and quickly shares market information. After more than 10 years of unremitting operation, Hermes Steel establishes professional teams of international trading, large warehousing, processing and after-sales service, providing professional stainless steel import and export trading services to our international customers with fast response, stable supreme quality, strong after-sales support and excellent reputation.
Hermes Steel has a wide range of products and services, covering stainless steel coils, stainless steel sheets, stainless steel pipes, stainless steel bars, stainless steel wires and customized stainless steel products, with steel grades 200 series, 300 series, 400 series; including surface finish like NO.1, 2E, 2B, 2BB, BA, NO.4, 6K, 8K. In addition to meet the individual needs of our customers, we also provide customized 2BQ (stamping material), 2BK (8K processing special material) and other special material, with customized surface's processing including mirror, grinding, sandblasting, etching, embossing, stamping, lamination, 3D laser, antique, Anti-fingerprint, PVD vacuum coating and water plating. At the same time, we provide with flattening, slitting, film covering, packaging and full sets of import or export trading services.
 Foshan Hermes Steel Co., Limited. with years of experience in the field of stainless steel distribution, has been adhering to the aims of customer focus and service orientation, continuously building a professional sales and service team, providing professional solutions to satisfy customers' various demands through prompt response and ultimately obtaining customer satisfaction to reflect the value of our enterprise. Our mission is to be a stainless steel company providing one-stop service to promptly satisfy the customers' requirements.
In the process of providing customers with quality products and services for many years, we have gradually established our own corporate culture. Believing, sharing, altruism and persisstence are the pursuits of every staff from Hermes Steel.