PVD Colored Stainless Sheet 201 316 Decoration Stainless Steel Color Sheet 304 Coloured Stainless Steel Sheet suppliers
Product Detail
About Hermes Steel
Product Tags
Overview
Colored stainless steel sheets have been applied more and more widely in recent years due to its unique characteristics. Nowadays, colored stainless steel products are widely used in buildings abroad, and colored stainless steel plates have become popular. China color stainless steel has both metallic luster and intensity and has a colorful and everlasting color.
Color stainless steel sheet metal material:
Austenite is the most suitable coloring material for colored stainless steel, and a satisfactory color table can be obtained. Ferritic stainless steel will corrode in the coloring liquid, and the resulting color will not be bright. Due to poor corrosion resistance, low chromium high carbon martensitic stainless steel can only get a gray or black surface Commonly used austenitic stainless steel grades are 201, 202, 304, 304L, 310S, 309S, 316, 316L, 321, and so on.
Features
Features of Colored Stainless Steel Sheet
The color stainless steel plate has the characteristics of strong corrosion resistance, high mechanical properties, long color color surface, color change with different light angles, color stainless steel plate and so on. Non-ferrous stainless steel has no change in color after being exposed to industrial atmosphere for 6 years, exposed to marine climate for 1.5 years, immersed in boiling water for 28 days or heated to about 300°C. Colored Stainless Steel Sheet can be molded, stretched and bent.
Specifications
| | |
| --- | --- |
| Product Name: | Colored Stainless Steel Sheet |
| Grades: | 201,202,304,304L,316,316L,321,347H,409,409L etc. |
| Standard: | ASTM,AISI,SUS,JIS,EN,DIN,BS,GB,etc |
| Certifications: | ISO, SGS, BV, CE or as required |
| Thickness: | 0.3mm-3.0mm |
| Width: | 1000 - 2000mm or Customizable |
| Length: | 2000 - 6000mm or Customizable |
| Surface: | Gold mirror, Sapphire mirror, Rose mirror, black mirror,bronze mirror;Gold brushed, Sapphire brushed, Rose brushed,black brushed etc. |
| Delivery time: | Normally 20 days or negotiable |
| Package: | Standard Seaworthy Wooden Pallets/Boxes or as per clients' requirements |
| Payment terms: | T/T, L/C |
| Applications: | Architectural decoration, luxury doors, elevators decorating, metal tank shell, ship building, decorated inside the train, as well as outdoor works, advertising nameplate, the ceiling and cabinets, aisle panels, screen, the tunnel project, hotels, guest houses, entertainment place,kitchen equipment, light industrial and others. |
Uses
Application of colored stainless steel
1. Used for building exterior wall decoration and interior decoration.
2. Colored Stainless Steel Sheet combined with printing, using etching, grinding, dot matrix method to produce indelible three-dimensional reliefs, murals, screens.
3. Use colored stainless steel to make household appliances, cooking utensils, kitchen equipment and bathroom utensils.
4. The heat absorption rate of the black stainless steel plate can be as high as 91% to 93%.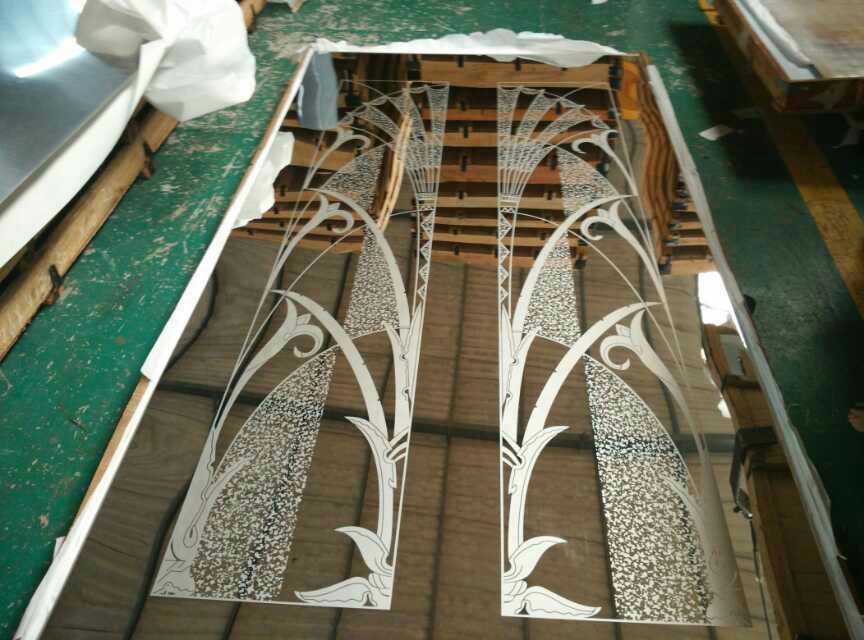 Classification of colored stainless steel
1. Color stainless steel mirror panel
The mirror panel, also known as 8K panel, is polished by polishing equipment on the surface of stainless steel with abrasive liquid to make the surface as bright as a mirror, and then electroplated and colored
2. Colored stainless steel hairline sheet metal
The surface of the drawing board has a matte silk texture. A closer look reveals that there is a trace on it, but I can't feel it. It is more wear-resistant than ordinary bright stainless steel and looks more advanced.
There are many kinds of patterns on the drawing board, including hairy silk (HL), snow sand (NO4), lines (random), crosshairs, etc. Upon request, all lines are processed by an oil polishing machine, then electroplated and colored.
3. Color stainless steel sandblasting board
The zirconium beads used in the sandblasting board are processed on the surface of the stainless steel plate by mechanical equipment, so that the surface of the sandblasting board presents a fine bead sand surface, forming a unique decorative effect. Then electroplating and coloring.
4. Color stainless steel combined craft sheet
According to process requirements, multiple processes such as polishing hairline, pvd coating, etching, sandblasting, etc. are combined on the same board, and then electroplated and colored
5. Color stainless steel random pattern panel
From a distance, the pattern of the chaotic pattern disc is composed of a circle of sand grains, and the irregular chaotic pattern nearby is irregularly oscillated and polished by the grinding head, and then electroplated and colored.
6. Color stainless steel etching plate
Etching board is a kind of deep processing after mirror panel, drawing board and sandblasting board are the bottom plate, and various patterns are etched on the surface by chemical method. The etching plate is processed by multiple complicated processes such as mixed pattern, wire drawing, gold inlay, titanium gold, etc., to achieve the effect of alternating light and dark patterns and gorgeous colors.
---
---
Foshan Hermes Steel Co., Limited, establishes a large stainless steel comprehensive service platform integrating international trading, processing, storage and after-sales service. 
Our company is located in Foshan Liyuan Metal Trading Center, which is a large stainless steel distribution and trading area in southern China, with convenient transportation and mature industrial supporting facilities. A lot of merchants gathered around the market center. Combining the advantages of market location with strong technologies and scales of major steel mills, Hermes Steel takes full advantages in the field of distribution and quickly shares market information. After more than 10 years of unremitting operation, Hermes Steel establishes professional teams of international trading, large warehousing, processing and after-sales service, providing professional stainless steel import and export trading services to our international customers with fast response, stable supreme quality, strong after-sales support and excellent reputation.
Hermes Steel has a wide range of products and services, covering stainless steel coils, stainless steel sheets, stainless steel pipes, stainless steel bars, stainless steel wires and customized stainless steel products, with steel grades 200 series, 300 series, 400 series; including surface finish like NO.1, 2E, 2B, 2BB, BA, NO.4, 6K, 8K. In addition to meet the individual needs of our customers, we also provide customized 2BQ (stamping material), 2BK (8K processing special material) and other special material, with customized surface's processing including mirror, grinding, sandblasting, etching, embossing, stamping, lamination, 3D laser, antique, Anti-fingerprint, PVD vacuum coating and water plating. At the same time, we provide with flattening, slitting, film covering, packaging and full sets of import or export trading services.
 Foshan Hermes Steel Co., Limited. with years of experience in the field of stainless steel distribution, has been adhering to the aims of customer focus and service orientation, continuously building a professional sales and service team, providing professional solutions to satisfy customers' various demands through prompt response and ultimately obtaining customer satisfaction to reflect the value of our enterprise. Our mission is to be a stainless steel company providing one-stop service to promptly satisfy the customers' requirements.
In the process of providing customers with quality products and services for many years, we have gradually established our own corporate culture. Believing, sharing, altruism and persisstence are the pursuits of every staff from Hermes Steel.